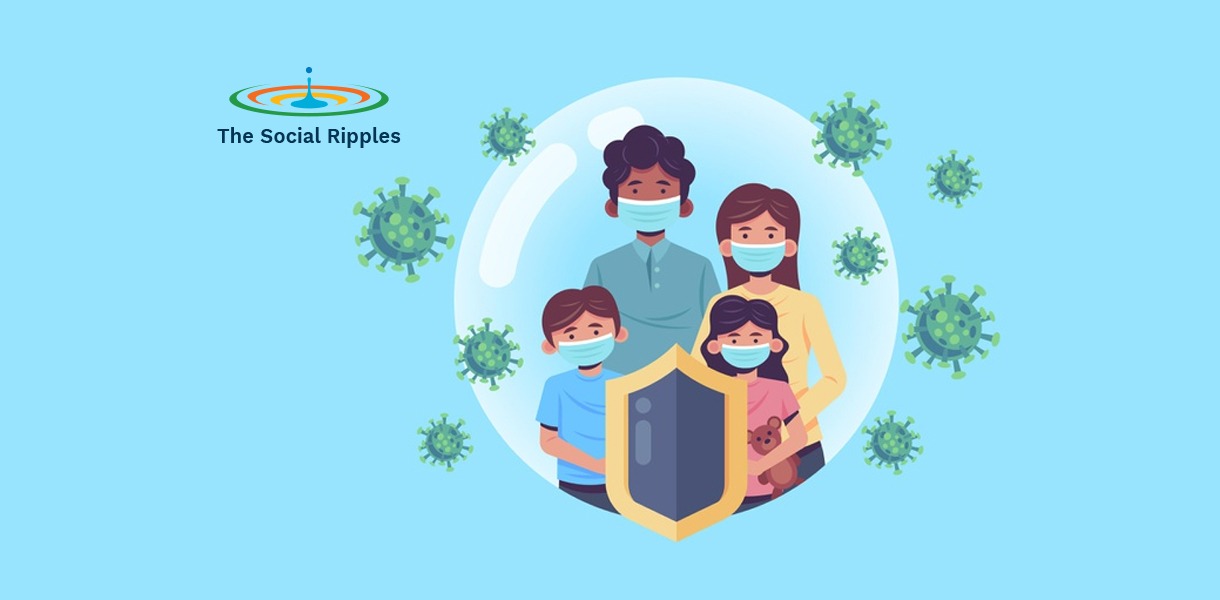 "Health is a state of complete harmony of the body, mind, and spirit. When one is free from physical disabilities and mental distractions, the gates of the soul open."
                     ~ B.K.S. Iyengar
 
Even Nostradamus could not have predicted the horror and gruesome released by an invisible living organism.
The world has been victimised by the macabre dance of Coronavirus for more than a year and a half.
Starting from developed nations to developing countries like India, governments, health care systems, organizations and people fell apart by the challenges and death all around.
The entire ghastly effects of the virus, the disintegration of public systems, and the sheer fear all around, whether in France, Italy, the US, or any country gave goosebumps to anyone watching, hearing, or reading any news regarding it.
However small countries like Indonesia, Vietnam, and even strong nations like South Korea did not experience tragically such magnitude.
As I write, India is undergoing inexpressible agony and misery.
People dying everywhere, the number of infected cases skyrocketing, the health care system is wretched with a shortage of beds, infrastructure, life-saving drugs, and oxygen.
Human emotion is robbed of its beauty. It's a common picture in every city, state.
People losing their loved ones unexpectedly, people running from pillar to post to arrange for an oxygen cylinder so that a few gasps of breath would be available for their dying loved ones.
People standing in queues for 2 to 3 days just to purchase a reliever .... the life-saving drug for extreme corona cases.
The dead are not even fortunate to get a decent funeral. Relatives waiting for 1 to 2 days to perform the funeral due to the shortage of space in the crematorium.
All these happening in the 21st century is unbelievable! Seems like a story from the horror movies.
Hopefully, this is a learning phase for governments and people across the world.
Corona is a litmus test for health care systems and community management. This unpredictable and mammoth health challenge confronting mankind and necessitating urgent mobilization of resources provides enough window to see through and understand the different levels of preparedness of health care systems required from primary level to large hospitals to deal with similar challenges of such magnitude in the future.
An eye-opener regarding the loose screws in the health care systems and the callous attitude or rather overconfidence of different stakeholders, especially governments.

Without muddling the already muddy poodle of blame game and passing the buck, let us contemplate strengthening and creating resilient health care systems.
Health is a primary focus of the 2030 Sustainable Development Goals(SDGs) and indicated by the all-inclusive health goal of SDG 3: "Ensure healthy lives and promote well-being for all at all ages". There cannot be economic growth of a nation without the good health and well-being of its population. Health should be at the center of public policy.
1. Adequate financial investment:
For a start, greater investment in the health and wellness of the citizens would make the population, particularly the vulnerable groups more resistant to health risks. Coronavirus has increased the gap further between the haves and has not's in society by inflicting unfathomable health and socio-economic havoc on the disadvantaged groups, already torn by social inequities.
Even as India's expenditure on healthcare has shot up substantially in the past few years, it is still very low in comparison to even smaller nations like Sri Lanka and Indonesia.  
The public expenditure on health as a percentage of GDP for 2017-18 was a mere 1.28 of GDP, which is too little for a population size of 1 billion people. India's expenditure on medical research is extremely deficient to meet the present and future health challenges of the population. 
2.Universal Health Insurance coverage:
Lack of universal health coverage of the middle class and the vulnerable groups dissuades many people to go for early diagnosis. In a country like India, private medical facilities are very costly for the population, government hospitals are not enough in number, neither in infrastructure or technology to meet the surging and various health needs of an overpopulated country.
Availing health insurance coverage is a costly affair for families. Most employers do not provide family insurance for their employees except large private organizations and the government sector. Hence a large chunk of the middle class and people at the bottom of the pyramid are excluded from health insurance coverage.
Whatever health insurance is chalked out for the vulnerable groups, is very less in comparison to the health care cost. Even this bare minimum, either do not reach them due to corrupt practices or they are unaware of the facilities and do not know the ways and means to avail those. Several lives can be saved and deadly diseases prevented by early diagnosis if India floats Universal health coverage for the middle class and the vulnerable groups.
3. Ensuring continuance of medical supply chain:
Covid 19 brought to the surface the laxity in the medical supply chain. I remember a friend who is working as a senior nurse in the US once told me a bitter truth when the US was grappling with tragic consequences in 2020.
She said America was always callous with the usage of medical supplies. Hospitals would discard unused cotton, masks, sanitizers, medicines in large quantities generally, but it was during covid emergency did they realize how much would those dumped materials could have helped hospitals when supplies ran short to meet the growing covid cases.
Indonesia was quick in its responses to ensure the availability of medical supplies related to Covid 19.
On the other hand, India is experiencing a dreary scenario, unavailability of hospital beds, PPE kits, masks, oxymeters, oxygen cylinders, and drugs too.
It could have been avoided had India pumped in more investment into ensuring a vigorous supply chain when covid 19 started spreading its tentacles since the end of 2019.  
Designing sturdy plans with the help of committees comprising of health experts and bureaucrats, followed up by meeting with pharmaceutical companies and other industry leaders to discuss regarding production of drugs, oxygen, ventilators, other medical supplies too.
Motivating local entrepreneurs and SMEs to produce medical equipment and disposable materials within the given standard.
Self Help groups present in lakhs across the country could be time involved in producing masks, sanitizers, gloves, PPE kits with the help of small loans if needed from banks. All these could have added to the advantage of the country.
Monitoring and quality assurance examination could have been transferred to the respective state governments too. Stocking primary health care centers in the rural and backward areas to big hospitals both government and private would have eased the crisis.
Proactively building large makeshift covid hospitals in rural as well as in urban areas in larger numbers would have prevented people from migrating to cities for health care. Building of makeshift Covid hospitals could have been done since early 2020, with the active participation of corporate.
4.Ensuring availability of health professionals:
India has a shortage of doctors during normal times. The doctor-population ratio is 1:1456. When the health care system is pressurized during covid 19 or any fast-spreading communicable disease, the shortage of doctors and nurses strains the system further. It not only increases deaths due to the unavailability of timely expert medical care, but it also delays diagnosis and treatment, increases the workload on the existing doctors and nurses, thereby exposing them to covid 19 infection, mental stress and ill health. This is the time, when young undergraduate and postgraduate medical students, interns, doctors, nurses, nursing students, ASHA workers- all should be infused into the system, with clear cut roles, responsibilities, and accountability set, to provide their service after a training program of a week or so. Even the services of retired doctors and nurses could be capitalized upon in such circumstances. 
5.Leveraging the use of digital technology:
It is worth observing how adroitly many countries used digital technology as a covid mitigation tool. Use of AI in early detection and sequencing of the virus, telehealth facility, online health consultation, contact tracing, and predicting the journey of the virus and potential variants.
Smartphones and mobile data have been massively used for awareness, guidance, and control of the coronavirus spread. Apps to identify possible corona cases nearby a person and also to help people in quarantine monitor one's progress are some of the benefits accrued through digital technology.
However developing soft wares proactively, ready to be easily customized to the future need in case of such exigency would be a good initiative. Ensuring the accessibility of these technologies to the underprivileged and vulnerable categories requires the availability of an internet network in the remotest villages of developing countries and proper orientation regarding its application and use needs to be imparted to the disadvantaged communities.
6.Vaccination:
Scientists worldwide toiled day and night to roll out vaccines for assuaging the covid threat.
The US has Pfizer, India has Covaxin and Covishield, Russia has Sputnik V and other countries too produced their own. Inoculating an overflowing population, engulfed by fear and panic is no easy task. Production, transportation, and storage of vaccines are real logistic challenges.
Guarantying the availability of vaccine flow to the primary, secondary, and tertiary health care centers across the country which need to be well-staffed and well equipped for vaccination drives is again a challenge for a country like India. Keeping vigilance over people following covid protocol in the vaccination centers requires manpower.
7.Awareness and Education:
The vulnerable sections of society and illiterate population in the remotest areas need to be well educated about communicable diseases and presently regarding covid 19.
This urger intensive interaction through a door to door visits, fracturing any myths regarding corona or any communicable diseases in the future and motivating people to embrace a hygienic way of life and readily go for vaccination.

Covid 19 has been a rigorous teacher, raising brows to the perpetual slackness in the health care systems across the world. It is time that every country wakes up to create resilient health care systems that would benefit the lat man in the remotest corner too.

                          "Health is a human necessity; health is a human right"
                                                                                                       ~ James Lenhart