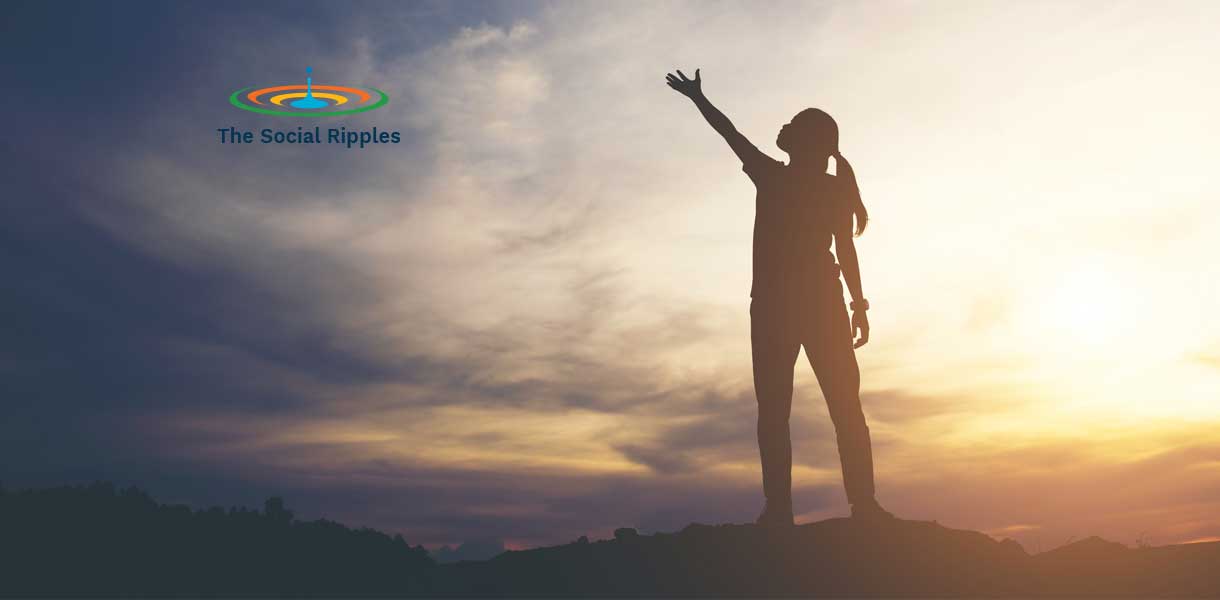 Dr. Lopamudra Priyadarshini - Her mission towards Sustainable Social Development:
The social ripple is an initiative towards sustainable social development. With an increase in industrialization and a change in the standard of living of people, there are various problems faced by the world. The problems faced by people in the world are not limited to economic or environmental factors, but also they are socially challenged. Hence, the world needs solutions to many of the problems. Dr. Lopamudra Priyadarshini is on her mission toward sustainable social development. Through social ripples, she urges to find sustainable solutions to universal issues. She has created various development goals, are aligned with the United Nations' sustainable development goals.   
She is a corporate management professional having experience of 25+ years, always had a passion for bringing sustainable social development. She has taken all social initiatives to make society aware of the reality of development today and what sustainable development means. Her vision is to empower and inspire the individuals of communities, which is a stepping stone towards the success of sustainable development goals (SDGs), which are inspired and aligned with the sustainable development goals of the United Nations. 
What is Sustainable social development?
The word sustainable development suggests the development that sustains for a longer time or forever. Sustainable social development is the process of sustainable development that promotes well-being by understanding the needs of people from the places where they live and work. According to Dr. Lopamudra Priyadarshini, the concept of sustainable social development is broader than just understanding the needs of people. In addition to it, sustainable social development is about the ability of the communities to develop processes and structure the paths to meet current needs ensuring that future generations will also be able to use the resources to meet their needs. 
Hence, bringing sustainable social development is about taking care of human social and economic well-being by keeping harmony with the environment. Anything that we do at present to meet our needs should be in favor of environmental protection and enhancement, says Dr. Lopamudra Priyadarshini. If we do so, then only we and our future generations are going to live in a healthy and sustainable world. 
Dramatically increase in poverty, and it's all forms that are affecting the well-being of most of the population in the world. There is a need of bringing up sustainable solutions for eradicating poverty. Only raising funds and donations to the poorest people is not going to end up with the problems of poverty. Instead raising employment opportunities for them is going to help them raise their social and economic well-being. At social ripples, Dr. Lopamudra Priyadarshini, with her team focuses on coming up with measures that will bring equal employment opportunities for the people. They also promote the ways of living in a socially inclusive environment so that everyone in society is tolerant towards each other and respects the human and fundamental rights of the other person.
In addition to all types of poverty and hunger-related problems, there are various areas where the social ripples are trying to focus. They want to bring a sustainable society where our environment is protected and enhanced. Their journey towards sustainable social development is aligned to the UN's 17 sustainable development goals, and they say that social sustainability can be achieved if we jointly pledge to focus on the following areas of sustainable social development. 
Creating an inclusive society- giving every individual equal opportunity to develop the feeling of inclusion 
Sustainable rural development- encouraging the people of rural areas with various employment opportunities to raise their living and meet their livelihoods by effectively using the natural resource
Gender equality- empowering every individual to contribute to society regardless of their gender.
Women and child development- ensuring the health and well-being of women and children. Also, empowering women with quality education, skills, and employment. Children's education, nutrition, and well-being and finding measures to eradicate the problems related to child labor. 
To achieve sustainable social development, Dr. Lopamudra Priyadarshini partners with individuals and organizations to generate awareness and enlighten people about the need of bringing change in the lifestyle pattern of the individuals. She also believes that only the availability of resources is not enough to bring development. The development process is about changing the public policies, attitudes, and behaviors of the people to improve their lives. If we want to bring positive change in the world, it is important to change our behavior towards our surroundings by respecting everything we already have so that future generations will be able to live a healthy and sustainable life.