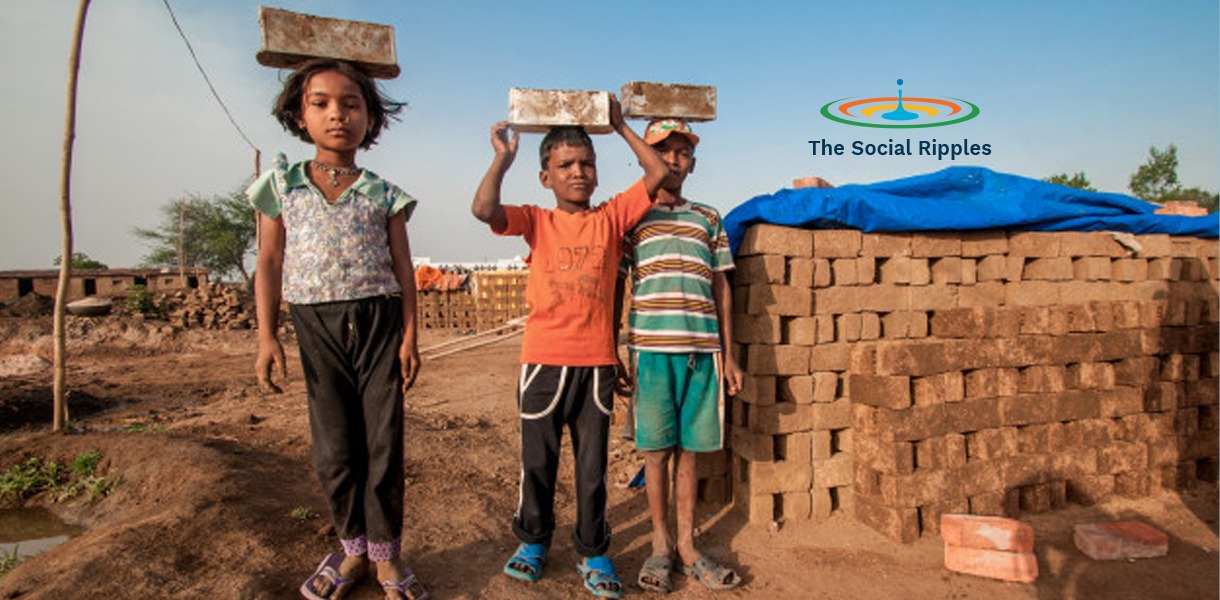 "Life is a gift of our Creator.....And it should never be for sale".
Most of us share the same anxious emotion when our 5 years old or 7 years old child comes home crying from an injury on the playground. 
How we rummage through the stacks of beautiful skirts, shirts or hats amongst the kid's fashion collection in a mall or an online store, so that our young ones would appear like a beautiful princess or handsome prince.
I am sure all parents out there sweat out to provide the best for their kids. 
For some parents, it's a donkey work to provide two square meals a day for their kids.
However, does it ever fluster you when you see a 6 or 7 years old boy cleaning the table as you sit down in a roadside motel to have some delicacies?
Do you feel it uncanny if your maid's little girl assists her at work?
Does it pang your heart when you see small little hands nibbling with threads and jute to layout exquisite carpets for your drawing rooms to add to your grandeur lifestyle?
Yes or No – I leave it to your conscience to answer.
Yet I am sure many sensible and sensitive souls may be agonized seeing such helplessness.
Do you ever know, the refreshing coffee that we gulp down in a cold winter morning or a rainy evening often has the drudgery of small kids in it, especially if the coffee beans are produced in plantations of Guatemala, Costa Rica, Côte d'Ivoire, Dominican Republic and Uganda?
Coffee plantations engage labourers in intensive manual work for picking, sorting, pruning, weeding, spraying fertilizers and transporting products under exhaustive conditions for 10 to 11 hours a day with rigid deadlines and poor pay.
This forces parents to make their children work along with them, abandoning school and exposing them to health hazards.
"There can be no keener revelation of a society's soul than the way in which it treats its children."  — Nelson Mandela

 The salt without which the costliest food would be unpalatable and the worlds best chef would be conked out essentially has the tears, sweat and blood of bonded labour of men, women and children in Gujrat salt pans. 
Working in inhuman conditions, barefoot with wounds and blisters due to constant exposure to salt and scorching sun for 10 to 12 hours a day, being paid as meagre as Rs 21 to 25 per tonne of salt by the traders, its a life of abject poverty and exploitation. With no education, no access to alternative employment and perennial debt from the traders, living at the edge of grinding destitution is their only means for existence.
India's food basket is strained by the shattering distraught and inhuman slavery of the bonded labour in many places in the States of Andhra Pradesh, Bihar, Haryana, Karnataka, Madhya Pradesh, Maharashtra, Orissa, Punjab and Tamil Nadu. 
In the non-agricultural sector, the proliferation of bonded labour is unbridled in brick kilns, stone quarries, carpet weaving beedi manufacturing, construction and silk industry etc. The labourers belong to families at the bottom of the pyramid, belonging to lower strata of society and smuggled by the middlemen, paying an advance of Rs 30,000 to 40,000. Men, women and children are pushed to the brink of devastating existence, blemished with physical torture, back-breaking long hours of works, a pathetic payment that ensures the continuation of debt for years together, health hazards and unending distress.
Human trafficking is a thriving business of $150 billion profit a year for   
traffickers, $99 billion of which comes from commercial sexual exploitation
Around the world, an estimated incarcerated 71% of people are women and girls, while men and boys constitute29%.
152 million children are victims of child labour globally. According to the ILO:
72 million are in "hazardous work," which creates a pressing threat to a child's physical, mental and moral health and well-being.
25 million people are living in forced labour. Out of which 6.3 million are children.
7.4% of children in Asia, the Pacific and 19.6% of children in Africa are shackled in child labour.
These are not mere statistics. These many lives are robbed of their basic human rights and dignity to exist.
The UN sustainable development goal No.8 aims at ensuring the eradication of human trafficking and socio-economic dignity for all.
SDG No.8 vouch to "promote sustained, inclusive and sustainable economic growth, full and productive employment and decent work for all"
To achieve the above goal an integrated approach is mandatory because as long as unemployment, poverty exist, eradication of human trafficking is unimaginable.
Hence SDG No.8 is broken into visibly defined sub-goals. These sub-goals emphasize governments to ensure at least 7 per cent GDP growth per annum in the least developed countries, urges nation to frame and establish development-oriented policies that support industrious activities, adequate job creation, push entrepreneurship, steer creativity and innovation and boost up micro, small and medium enterprises.
The UN SDG 8, further exhorts nations to achieve productive employment, ample work opportunities and equal pay for the same value of work for all categories of people, including physically challenged. 
The UN goal is compelling in its conviction to abrogate human trafficking by urging nations to adopt effective and prompt measures to eradicate forced labour of all forms, protect labour rights and guarantee a safe and conducive working environment for all workers in all types of employment.
Every nation has its laws against different forms of human trafficking, yet the enforceability of the legal provisions are bleak. In such circumstance, UN SDG No.8 is a boon. 
However, it requires an awakening of the collective conscience of the society and joint responsibility of all stakeholders- governments, citizens, administrative machinery, law enforcement system, corporate, NGOs, advocacy bodies, International committees, communities and other organizations.
It requires iron-willed focus to transform the goals into reality through education, awareness, policies, action plans, implementation, laws, monitoring, vigilance and rehabilitation too. These needs resource, an integrated approach and a determination to strike at the roots of human trafficking.
The Social Ripples is determined to abdicate human trafficking and contribute towards UN Sustainable Development Goal No.8 in the most vulnerable groups. In this mission, we are all joint stakeholders, bearing a weighty responsibility towards mankind. The Social Ripples endeavours to uplift the poor tribals and vulnerable groups in the backward districts of Odisha from the hellish bondage of human trafficking.
"Dare to enter the darkness ....To bring another into the LIGHT"
                                                                                             Tony Kirwan